Looking for our Google Calendar? Click here.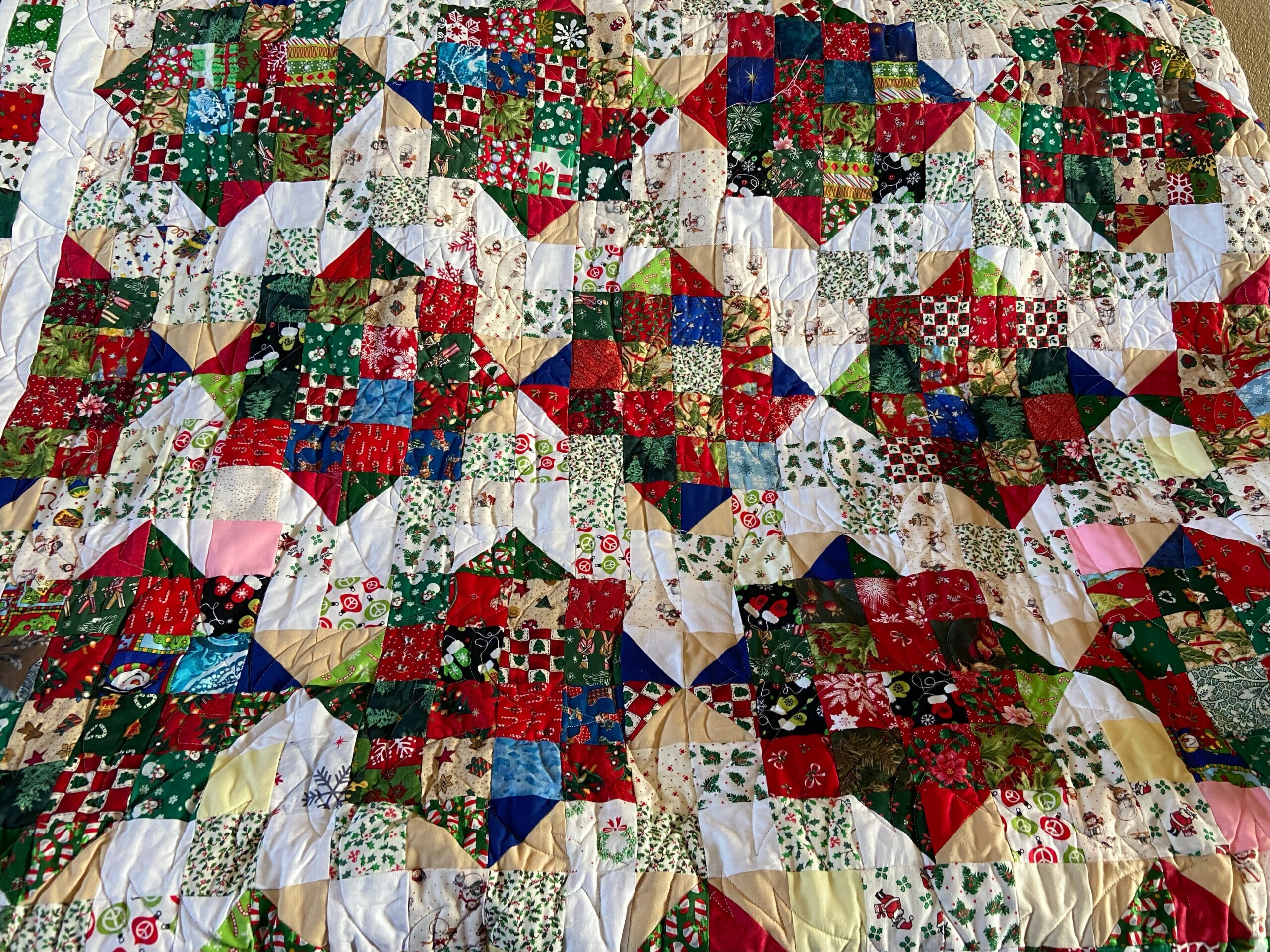 Cookie Fair & Quilt Raffle- December 16 & 17, 2023
December 5, 2023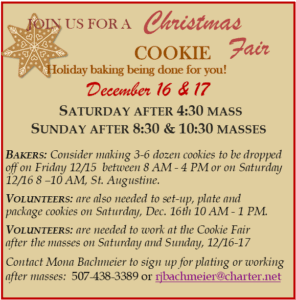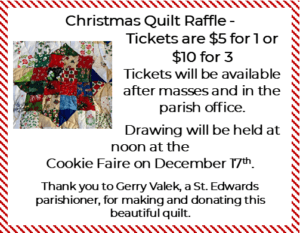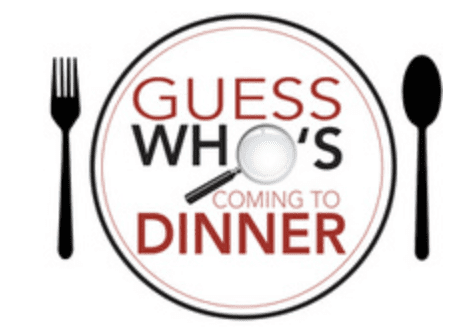 Guess Who's Coming To Dinner?
October 20, 2023
Ever wonder who the nice couple is who sits in front of you at Mass or the name of that friendly person who smiles so warmly to you at the sign of peace?
Guess Who's Coming to Dinner is a new ministry at St. Augustine and St. Edward designed to ­promote and strengthen our parish ­community by providing a chance to meet those ­familiar faces we see each week while having fun at the same time!
WHAT: Guess Who's Coming to Dinner is a fun way for parishioners to meet, in groups of 6-8 people, in a relaxed, informal atmosphere over dinner and conversation. There is an element of surprise to the evening – as guest, you won't know whose home you are going to until ­dinnertime; and as host, you won't know who's ­coming – adds more fun for everyone! (It is not necessary to host to participate.)
WHEN: The next dinner will be held on October 28, from 6:00-8:00 pm. Watch the bulletin for registration information for each upcoming dinner.
WHERE: At the home of a volunteering host.
WHY: It is a great way to meet some of those nice people you see at Mass.
WHO: All couples and singles of the parish (21+) are invited to participate. (consider this a date night- no children)
HOW: Both hosts and guests will be contacted by email or phone one week before the event with pertinent information, while protecting the element of surprise. The host will provide the main course and beverages for the meal. Those who will be Guests will be asked to bring an appetizer, salad, rolls, vegetable dish, or dessert. On the dinner evening, you will come to St. Augustine gathering space at 5:30pm and receive an envelope with the address of the host home. Hosts and guests will be matched differently each time so we can all meet more of our fellow parishioners!
Register by filling out the form found by using the QR code or by clicking on this link. https://forms.gle/KmKTD72iUQoRnNjx8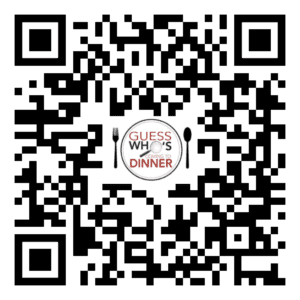 You are registering for the October 28, 2023 date.
Future Date: TBD, 2023
It is not necessary to attend every dinner but it is necessary to sign up separately for the dinners you wish to attend. Watch for each upcoming dinner's registration form shortly after the previous dinner date passes. Come to the dinners that work for you.
If you have questions or need help signing up, please contact the parish office at (507) 437-4537.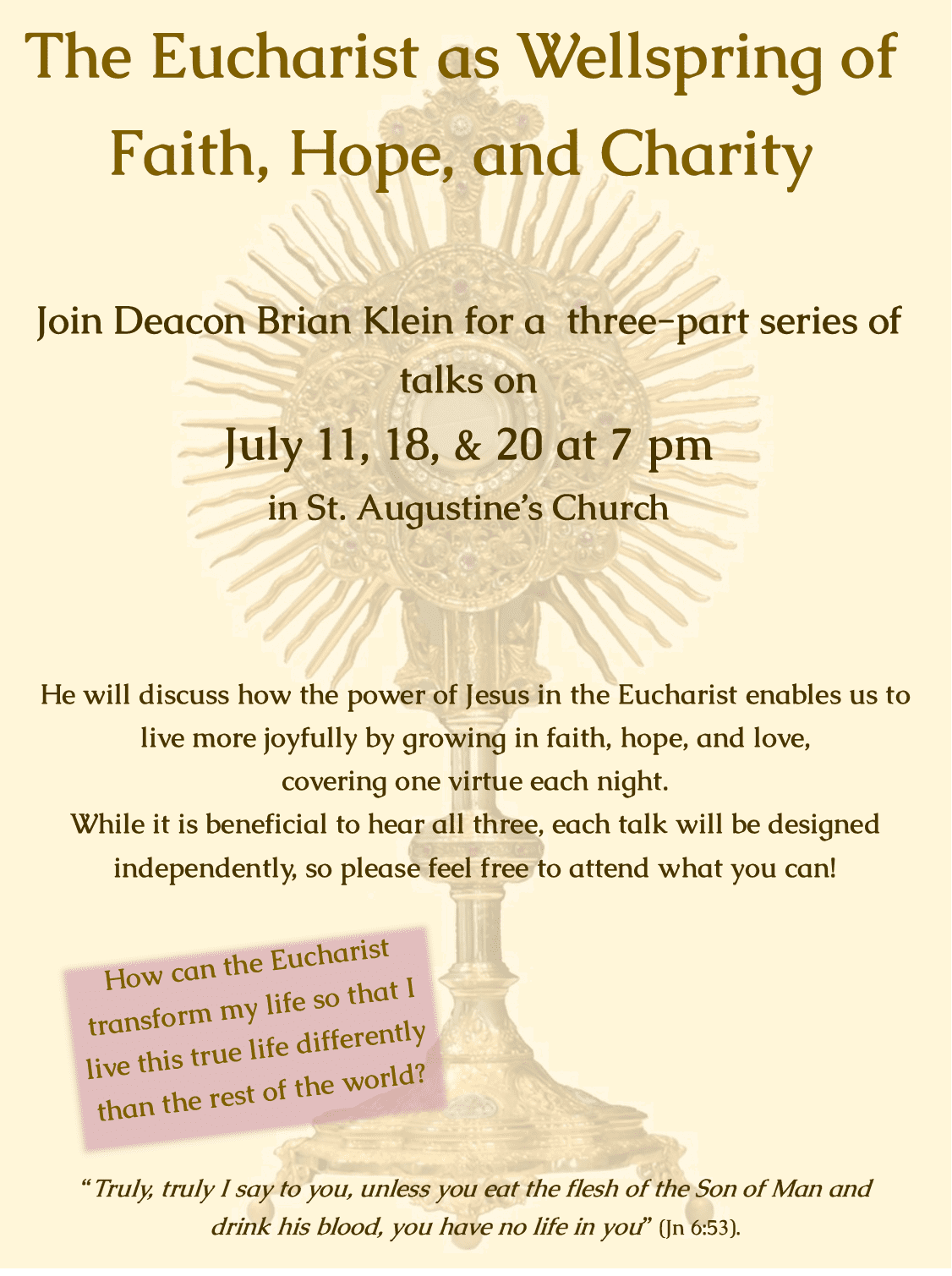 The Eucharist as Wellspring of Faith, Hope & Charity
June 29, 2023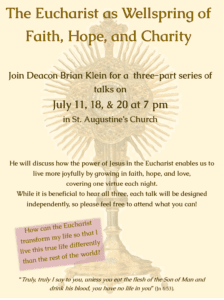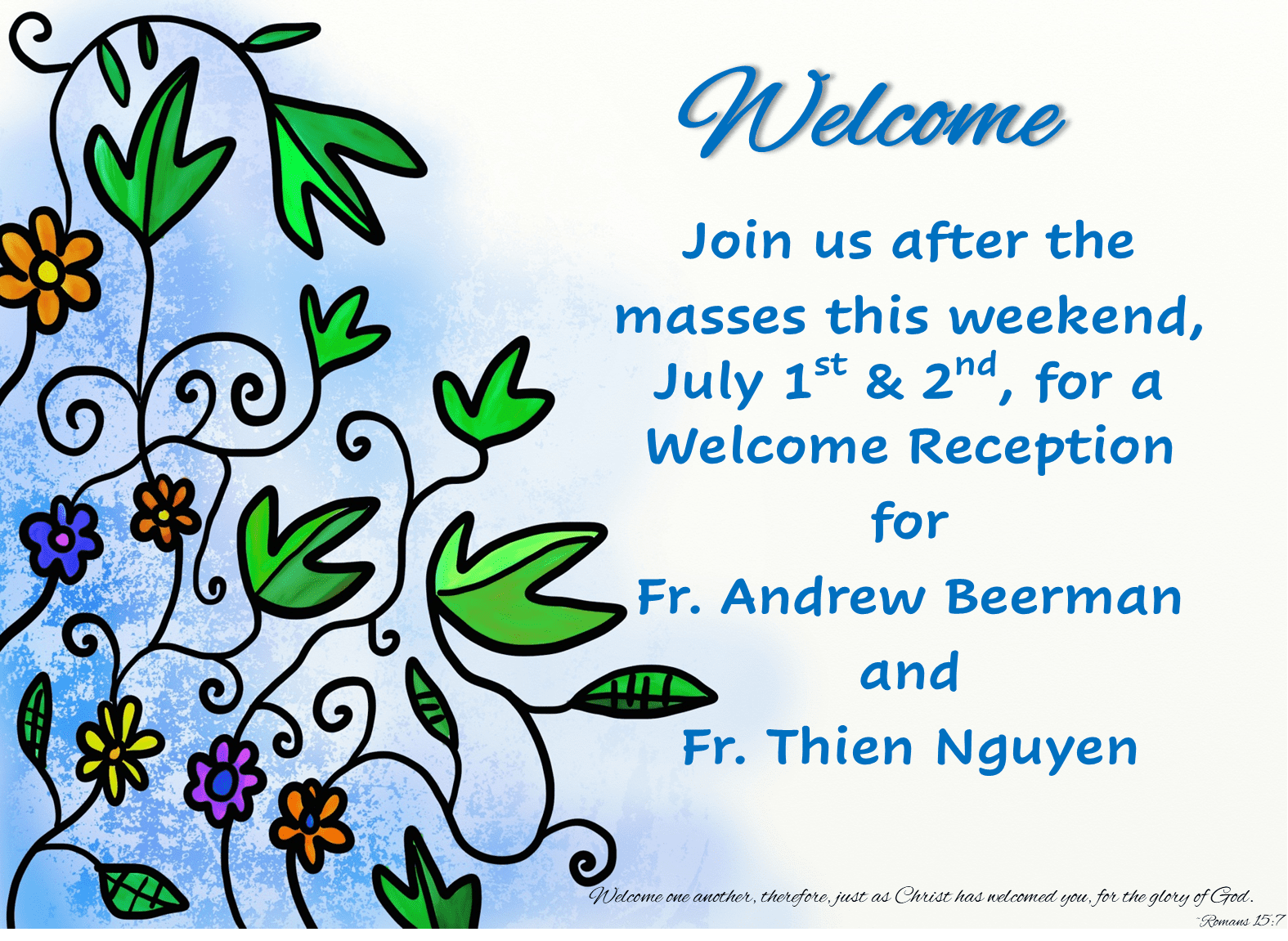 Welcome Reception for Fr. Beerman & Fr. Nguyen
June 28, 2023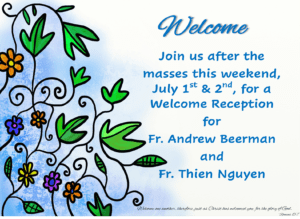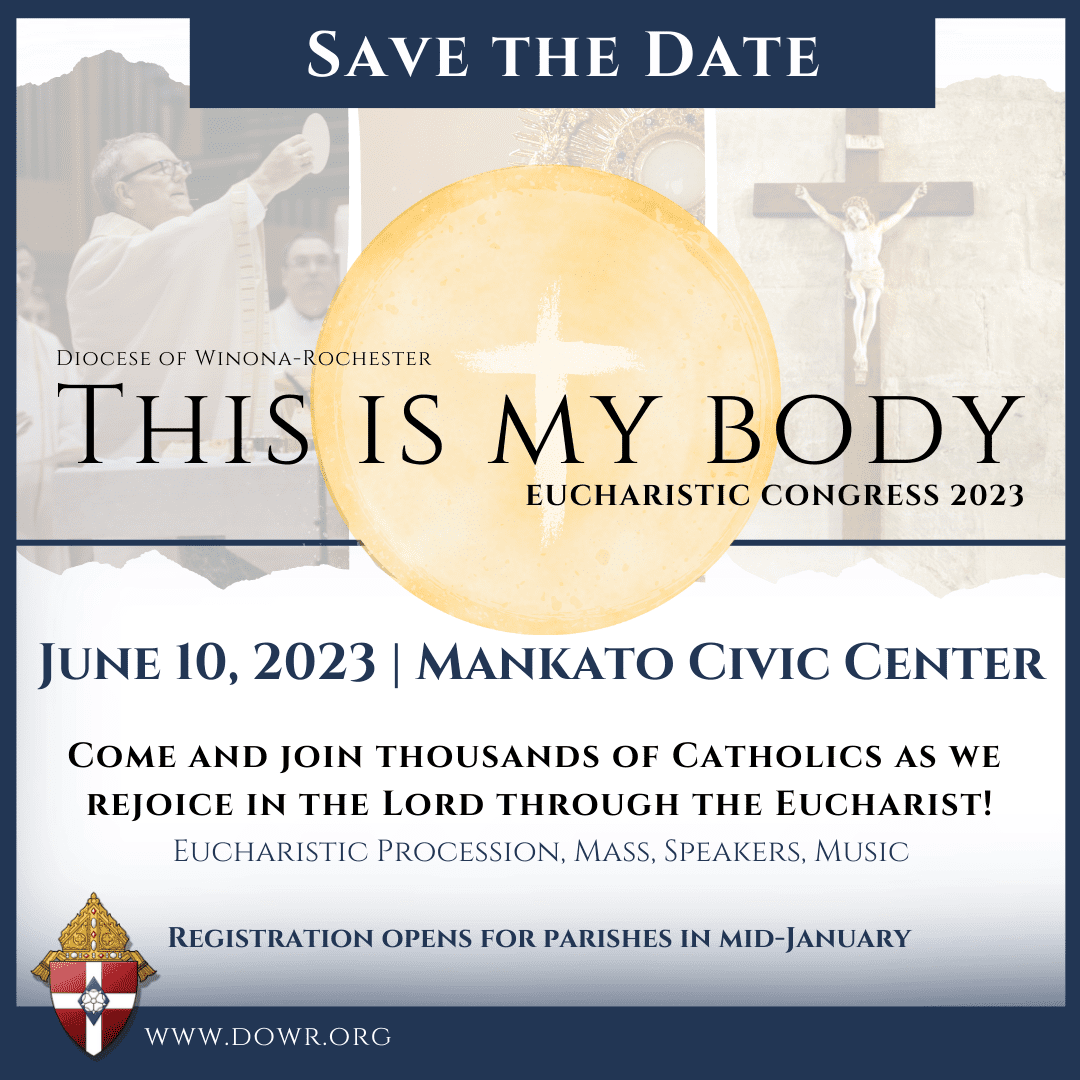 Eucharistic Congress
June 10, 2023
The Eucharistic Congress will be held in Mankato on June 10, 2023. We are hoping to have a large group of parishioners from St. Augustine and St. Edwards attend.  It will be a day full of events for all ages.  The parish will cover the costs of the first 50 people who sign-up including registration and transportation.  You can register to attend and reserve your spot by filling out this St. Augustine St. Edward Registration Form.  Additional information about the Eucharistic Congress can be found at Diocese of Winona-Rochester or by contacting the parish office at (507) 437-4537.
Eucharistic Congress Event Schedule and Information
June 10, 2023
St. Augustine and St Edward 
Eucharistic Congress Trip
June 10, 2023
Busses Load:  6:30 a.m. at St. Augustine
Tickets:  Tickets will be distributed as you leave the bus. (Must register in advance) 
Lunch:  Noon-1:00 p.m.
A boxed lunch will be purchased for you unless you have notified us that you do not wish for one to be purchased for you
Busses Load:  Plan to load busses between 5:30 and 5:45
Return home will be about 7:00 p.m.
If you have any questions about the event, please contact the parish office at (507) 437-4537.
Schedule for the Arena Stage   https://eucharist.dowr.org/schedule/
(Other events and opportunities are available in other facility locations)
8:30  Rosary
9:00 Opening March
9:30 Keynote Speaker Bishop Barron "Meal, Sacrifice, Real Presence"
10:15 Speaker Barbara Heil "How to Win a Catholic: An Evangelical Finds Her Way Home"
11:15 Music by Luke Spehar
12:00 Lunch
1:15 Sr. Alicia Torres "The Eucharist and the Poor:  Real Sacrifice, Real Presence, Real Communion
2:20 Dr. Tim O'Malley Becoming Eucharistic People:  The Call to Communion with the Eucharistic Lord"
3:15 Mass with Bishop Barron
4:30 Eucharistic Procession, Blessing, and Farewell

Youth Events Update
Don't miss a single youth ministry event again. Text SASEYM to 71441 to receive text messages about upcoming events. Also, follow the St. Augustine & St. Edward Youth Ministry on Instagram @sase_ym.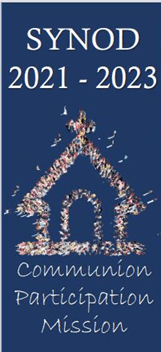 Synod Listening Sessions
 Listening Sessions for the Synod for will be on Tuesday, February 22 at 3:30pm and at 6:30pm.
There will be a half hour of Prayer before the Blessed Sacrament at St. Augustine.
Then the Listening Session in Jennings Hall to follow.
You can prepare by reflecting on the following questions (though you may share anything that you would like):
 1.  Do I feel like I belong in this parish community? Why or why not?
 2. How do we as a Church listen well, and where do we fall short in hearing the voices of all who live in this area?
3.  What areas of Christ's mission are we neglecting?
We hope to see you at one of these sessions on February 22nd.

Holy Week 2022
 Our Journey from Death to New Life
Easter Triduum
The "Easter Triduum", the sacred three days, from Holy Thursday evening to Easter Sunday are celebrated as one great feast, the solemn celebration of the Church year.  The Triduum is a commemoration of Jesus' death and resurrection into new life.  We celebrate what we believe: that Christ by dying destroyed our death and by rising he restored our life.  The Triduum celebrates our participation as parish communities in God's saving action, as we pass from death to new life in Christ.
April 14th, Holy Thursday- Solemn Mass of the Lord's Supper, 7:00pm at St. Augustine (Liturgy of the Word, Washing of feet, Liturgy of the Eucharist, Reception of the Sacred Oils, Transfer of the Eucharist)
April 15th, Good Friday- 2:30 Confessions at St. Edward, 3:00pm Walking Stations of the Cross from St. Edward to St. Augustine.  Followed by the Service of the Celebration of the Passion of the Lord at 4:30pm at St. Augustine. (Liturgy of the Word, Intercession for the World, Veneration of the Cross, Holy Communion)
April 16th, Easter Vigil, Solemn Mass of Easter, 8:00pm at St. Augustine. (Service of Light, Liturgy of the Word, Liturgy of Initiation Confirmation, Liturgy of the Eucharist)
April 17th, Easter Sunday Masses, 8:30am at St. Edward & 10:30am at St. Augustine
Healing Mass at 7pm- May 13th, 2022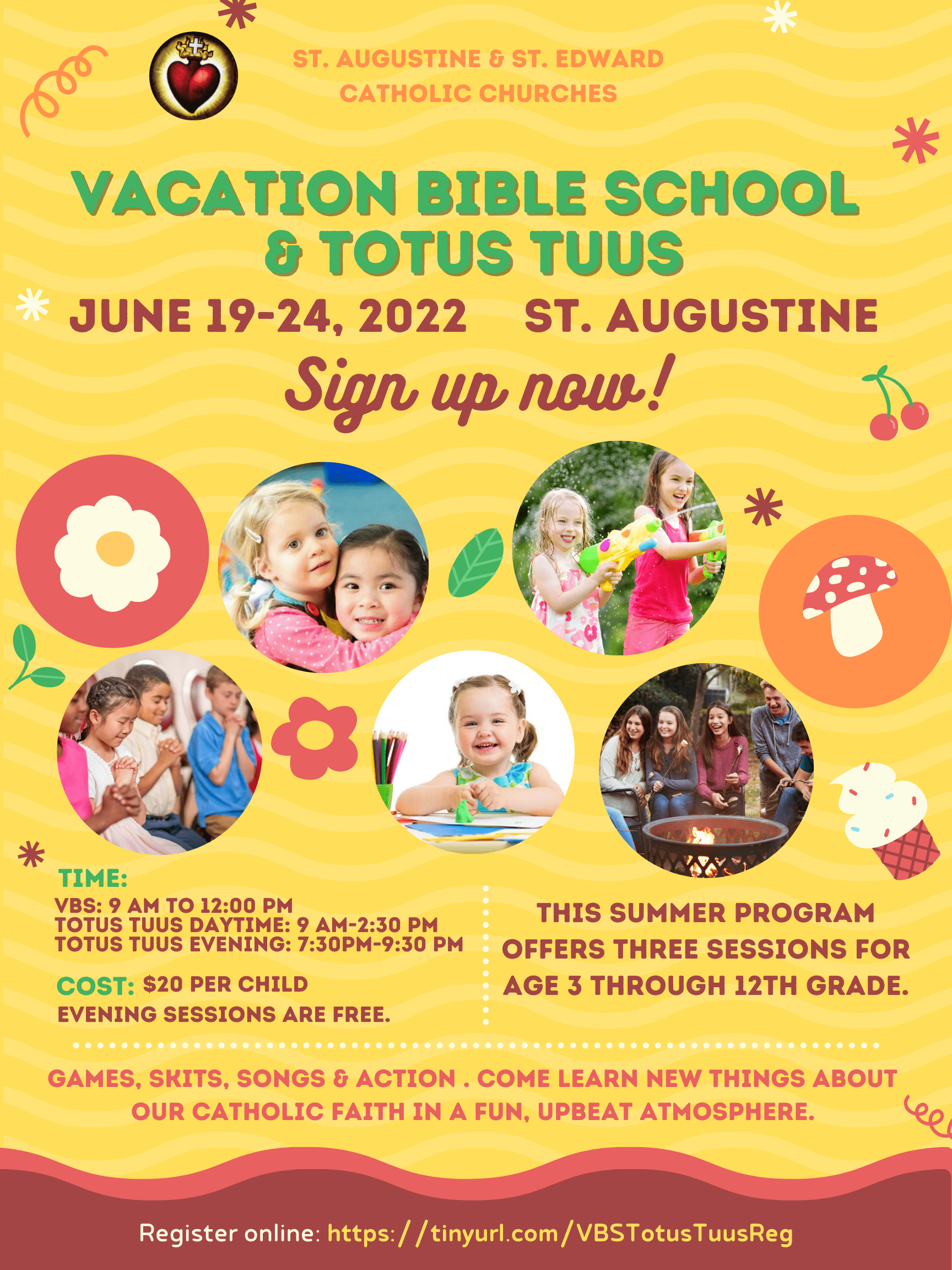 Vacation Bible School (VBS) & Totus Tuus Registration is now open!
Vacation Bible School (ages 3 through Kindergarten) and
Totus Tuus (Grades 1 – 12)
Date: June 19 – 24, 2022
St. Augustine Catholic Church
Call or stop in to register at the Parish Office at St. Augustine (507) 437-4537 or online at https://tinyurl.com/VBSTotusTuusReg
Totus Tuus is Latin for "Totally Yours" and the motto of Pope John Paul II. It represents our desire to give ourselves entirely to Jesus Christ through the hands of His Immaculate Mother.
Encourage your child to come to know and love their faith. With joy and honor, TOTUS TUUS serves our youth and shares with them the blessings that God has given us.
Vacation Bible School allows our young children an immersive experience filled with interaction and play while learning the foundations of our Catholic faith.
We will have GAMES, SKITS, SONGS, and ACTION!
Youth of all ages are guaranteed to have fun while learning new things about our Catholic faith in a FUN, UPBEAT ATMOSPHERE!
Parents- we need you too! Volunteer to help and experience the joy of seeing kids of all ages learn and grow in their faith! Register at https://tinyurl.com/VolunteerVbsTotusTuus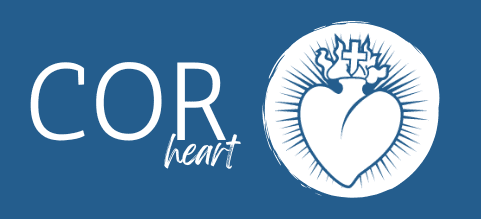 COR Registration
Find out more about COR and register for here.